Giving In Easily & Standing Up for Yourself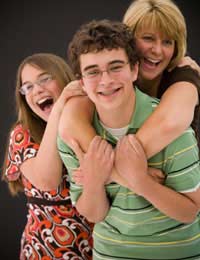 It can sometimes feel like there are lot more people in your relationship than you and your partner. Parents in law, friends and family all seem to put pressure on you from all angles and it can be easy to cave in. Or maybe it's your partner that you can't stand up to. Either way you need to stick up for yourself and not let anyone, however much you love them, walk all over you. If you give in too many times people will come to expect it and it will turn into a downward spiral. It's time to take control.
Learn To Say No
Relationships are all about compromise and there has to be give and take on both sides to make things work. However, when you are doing all the giving and your partner is only taking, you need to re-set the balance. Of course you want to please your partner but firstly you need to please yourself. The next time that your partner asks you to do something that you don't want to, say no. They may be surprised and expect you to give in easily but calmly stand your ground. Explain why you can't or don't want to do it and what the alternative could be. If they are persistent it may be tempting to give in for an easy life but don't. Once you have shown that you stand up for yourself it will be easier to do it again, and again.
Outside Influences
Often the pressure doesn't come directly from your partner but from other family members. Perhaps your parents are trying to pull you in one direction while your in-laws want you to do something else. When you feel stuck in the middle it can make you want to run away and avoid the conflict. However, remember that it is not their life or relationship and you have the ultimate say about how you run it. In these kinds of situations you run the risk of upsetting people and this can make you feel bad but it is for the best in the long run. Talk to your partner about what is happening and try to get them to support you. It may be difficult for them to stand up to their parents as well but if you work as a team it make things much easier. Sit the people down and explain your stance clearly and calmly. Make sure they know you value them but that they are not in charge, you are.
They Will Still Love You
You may have stood up to your partner and family but the kids always have that ability to twist you round their little finger. They look at you sweetly, tell you they love you and you melt. Alternatively, when they play up it can be easy to give in for a quiet life. Either way, you need to set boundaries and stick to them. This can be even more difficult if your partner is a soft touch or if you are divorced as you don't want to be seen as the mean one. However, remember that your children will still love you even if you say no to them. In fact children appreciate knowing what their limits are having consistency in their lives.
If you have always been the one that give in it can seem daunting to stand up for yourself but once you've done it, it will seem a whole lot easier next time.
You might also like...