Forgiveness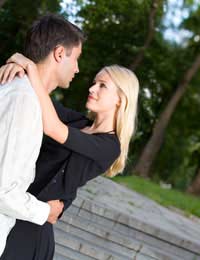 The ability to forgive is a virtuous trait that we all wish we had but in reality it is much more difficult to actually carry out. Forgiveness not only helps the guilty party though it can also ease the suffering of the person who has been wronged. By letting go of some of that anger it is easier to heal.
Asking For Forgiveness
If you have betrayed your partner in some way then you probably crave their forgiveness. It is something that can't be taken though, only given. It will take time fro your partner to reach a stage where they are ready to forgive you and it is not fair to try and push them into it. You need to give them time to process their feelings, deal with what has happened and reach the point where they are ready to forgive you.
After An Infidelity
If your partner has cheated then forgiveness is likely to be the last thing on your mind. Before you can think about it you will experience shock, hurt, anger and disbelief. These are all emotions that you need to work through and come to terms with before you can start thinking about forgiving them. If you decide that you want to stay with your partner though you will need to be willing to forgive them. If you constantly hold their infidelity over them then it will be impossible to move on and build the trust again.
Betrayal
It may be that your partner has betrayed you in some other way than being unfaithful. Perhaps they went behind your back about something, didn't fulfill an agreement or caused a family rift. Whatever they have done, you need to decide whether you can get over it. Offering forgiveness doesn't mean you are condoning what they did, just accepting that people make mistakes. Your partner must be willing to work through the situation with you and will need to prove their regret and willingness to change.
Forgive But Can't Forget
Sometimes you can get to the stage where you are willing to forgive someone for what they have done but you still can't fully get over it. If your partner has cheated then every time you get intimate maybe the image of them with someone else pops into your head. Or if they have betrayed you maybe there is a constant reminder of what they did. If you find that it is still tearing you up then it might be better to split up from your partner to avoid the pain.
Can't Forgive
A betrayal of any sort can sometimes hurt you so deeply that you can't find it in yourself to forgive. There is nothing wrong with feeling this way and not everybody is made for forgiveness. Your partner cannot expect to be forgiven when they made the mistake and will just have to live with it. Once you have split up with them though you need to work through your emotions and let go of the pain and anger. This may still not lead to forgiveness but by carrying around the hurt it will only eat away at you.
Forgiveness can feel elusive and it can take time and effort to reach a point where you are ready to embrace it. Forgiving someone can be freeing though and help you reach a point of healing.
You might also like...