Keeping the Relationship Alive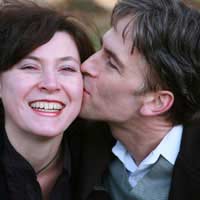 Remember that blissful honeymoon period when you couldn't keep your hands off each other and you floated around like you were the luckiest person in the world? When the mundane realities of everyday life creep in and smelly socks replace sex toys, the honeymoon haze can seem like a whole lifetime ago. However, it is never too late to re-ignite the flame and put a bit of excitement back in your relationship.
Drop the Excuses
I haven't got time, I'm too tired, I need to look after the kids, the housework needs doing – there is always an excuse for why you can't make time for your partner. Stop it. Make your relationship your priority and you will find there is always time for it.
Talk, Talk, Talk
Sit down with your partner and talk. Not about the kids, the bills or whose turn it is to the washing up but something totally irrelevant to everyday life. Talk about an interesting news story, a funny anecdote or dream holiday. Reminisce about a great holiday, laugh about something silly you got up to when you were younger or enjoy a sexy memory.
Get Away
With the pressures and commitments of your daily routine it can seem easier said than done to get away from it all. However, as much as you may like to lie on a desert island, getting away doesn't have to be that extreme. Just a night away from your normal environment can make a huge difference. If you have children then arrange some childcare and go out for a romantic meal. If you are just stuck in a rut try a new activity or take a day trip somewhere new.
Find a Fantasy
Focusing on something new and exciting is the best way to reignite your relationship. Think about something you would love to do, whether it is a trip abroad, bungee jumping or visiting a museum and plan it together. Working together towards a common goal and sharing the anticipation will make your relationship feel new again.
Re-ignite the Romance
Can you even remember those days when your partner tried to woo you? Once you've got each other tied down it can feel unnecessary to be romantic, but it's not. There is no need for huge romantic gestures; it is the small things that will make a difference. Tell your partner you love them or give them an unexpected kiss. Write them a card or buy them a small present on your way home from work. Romance is really about showing how much your partner means to you - actions speak louder than words.
Sexy Time
One of the first things to fade as the honeymoon slips away is your sex life. Back in the day you would wear sexy lingere, experiment with new positions and be at it five times a week. Now you are lucky if you get it once a week in the missionary position. Start by including physical intimacy in everyday life. Give your partner a hug or cuddle up on the sofa. Offer them a massage or take a bath together.
It can be difficult to talk about your sex life but by communicating effectively you can re-discover each other. Share three things that you would like to try and commit to trying them.
You might also like...