Having a Relationship Break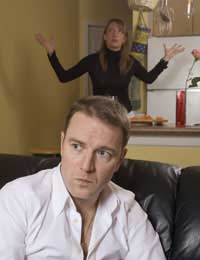 You've heard it in all the soaps and sitcoms, the infamous story line of 'We were on a break'. Having a break in a relationship can be a healthy thing but can also be a bit of a contentious issue. Communication and understanding can make the most of your time apart so your time together is better.
Young Love
When you get together with someone when you are very young it is natural to start wondering what else is out there. You see all your friends dating numerous people and can start to feel tied down and as if you are missing out. Having a break from your relationship can give you a chance to be young free and single and see what life is like on the other side. It is likely that you will probably realise the grass isn't always greener.
Distance
If one of you is going travelling, or moving away for work the logistics of the relationship may be too complicated. Instead of putting all your time and energy into trying to keep the relationship going it might seem like the best idea to split up. A break like this will clarify exactly how you feel about each other. It will give you the freedom to move on without feeling guilty or you will miss each other so much that you will know that your relationship is worth all the hassle and heartache.
Time to Think
A relationship break is probably most often used when your relationship is struggling and heading towards break up. This may be because of unresolved issues, an infidelity or simply because you have drifted apart. Having a break is like taking being single for a test drive. It gives you time to reflect on your relationship and decide what you really want. You may find that you feel relieved to be away from your partner and that living apart is much easier than you thought. Or you may realise what you have together and want to put your efforts into making it work.
Be Careful
Before you decide to have a relationship break you need to realise that it doesn't come with a 30 day money back guarantee. There is nothing to say that at the end of your break your partner will not feel differently to you. While it can be a good way to reflect on your relationship it might mean that you lose it forever. You need to be aware and ready for this before you take a break so you don't have to deal with the fact that you threw it all away.
Getting Back Together
If, after your break, you both decide that you want to get back together then congratulations. However, if you just fall back into your old ways then you won't have made the best use of your time apart and will probably split up soon anyway. When you get back together you need to address the issues that made you take a break in the first place. You need to talk openly and honestly about what the problems were and how you can resolve them. If you don't communicate then you will just find yourself stuck in the same old pattern and won't be able to move forward.
Having a relationship break can be a good thing but you need to be aware that it might also be the end. If you do decide to get back together then keep the lines of communication open to make the most of your time apart.
You might also like...
In my experience I was thinking of taking a break from my relationship as we were not getting to see each other as much, and when we did we were arguing. Also one of my old flames tried to contact me and was wanting to meet up, and we got on well so the temptation was there for me to maybe go on a break so I could meet up with him. But I didn't want to do this until I was on a break from my boyfriend, so I kept being unsure - should me and my boyfriend split up or go on a break?? So we both decided to go on a break for a while. The next day I realised this was not what I wanted and maybe being with him wasn't so bad after all. We just had to spend more time with each other and work on things. I then thought of him being with another girl and it made me feel physically sick and how much I would miss him and that maybe after the break he wouldn't want to get back with me, so that made me panic and think I had made a big mistake. If you are going through problems try and sort them out unless your relationship is really unhealthy such as domestic violence! But my bf was a good guy I think I was just being young and curious but I didn't want to take the decision of going on a break if it would break up our relationship were there have been plenty of happy times so make sure this is definitely what you want even explain how you feel to them maybe you just need a bit more excitement that you had at the beginning of the relationship.
Love
- 5-Aug-11 @ 1:37 PM