Trust Issues & Infidelity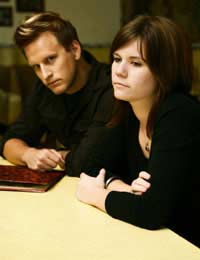 Trust is an issue in many relationships and can be hard to build up but easily broken down. Often trust issues are carried over from previous relationships and can influence your current one. Also if you or your partner has been unfaithful it can take time, patience and hard work to regain trust in the relationship.
Past Infidelities
If you have been cheated on in the past then it is only natural to feel nervous that it might happen again. However, living with that constant doubt will only put cracks in your relationship. As difficult as it may be you need to try not to let past experiences stop you trusting your current partner. It was not them that cheated on you and it is unfair to treat them as if it was. The more accusations you make the more likely they are to back away or eventually do exactly what you don't want, and cheat on you. Give them a chance to prove their own worth and offer them the trust they deserve.
If your partner knows that you have cheated in the past they may be wary about getting into a relationship with you. Explain truthfully what happened and why and make it clear that it won't happen again. It my take time to prove yourself to them but be patient and honest and you will create trust where there wasn't any.
Infidelity in Your Relationship
If your partner has cheated on you then it can be a confusing and heartwrenching time. When you have put your trust in someone and they break it you can feel stupid for not seeing the signs. It isn't your fault and often you wouldn't have been able to see it coming. You now need to decide what you want to happen and whether you can re-build the trust in your relationship.If you have done the cheating then you have hurt your partner in a way you can't imagine. Whatever your reasons were, you need to take responsibility for your actions. There is no point making excuses as only you could make that final decision. If it leads to the end of your relationship then learn from your mistakes and if your partner is willing to try again, work hard to regain their trust.
Moving Forward
Once you and your partner have decided that you are going to try and stay together there will be a lot of hard work and heartache before you reach a resolution. You will both need to be open, honest and understanding. If your partner was the one who cheated then being understanding may be the last thing on your mind but if you have decided to take them back then it is in your best interest to try your hardest to make it work. Listen to what made them cheat and why. This will be difficult but is essential for moving forward. It will take you time but don't throw their infidelity in their face every time you have an argument or you will never solve anything.
If you had the infidelity then you need to patient with your partner. Be willing to answer any questions they have and expect them to be emotional, angry and volatile. They will want to know where you are and who you are for a long time until you have rebuilt the trust. This will be a challenging time but you put yourself there and owe it to them to support their recovery.Whoever cheated and whenever it happened, building trust is vital to any successful relationship and need hard work and commitment to make it happen.
You might also like...